Philip Yates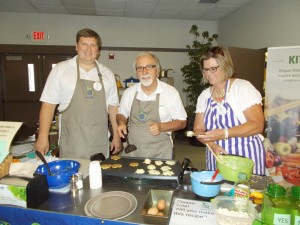 is the Nutrition Programs Director at ACCESS, a nonprofit located in Medford, Oregon. Yates has worked for the food program for 23 years.  "In all those 23 years, every single year, we've experienced an increase in need." According to Yates, there are approximately 30,000 people in Jackson County who live below the federal poverty line.  Yates estimates that ACCESS serves approximately 25,000 of those individuals annually.  Philip explained how the high cost of housing affects resident's food budgets, stating, "The high cost of housing is a huge thing in Jackson County. It has become a place where people want to retire so the housing rates have gone up and it's very expensive for people to live. People in poverty are finding that they are paying fifty to seventy percent of their income on housing alone. So, we are looking at fifty to thirty percent left of their income to pay utilities and everything else…. Food insecurity is certainly a problem here."
Currently, ACCESS host's twenty-five food pantries throughout Jackson County. Individuals who utilize ACCESS's food pantries are assigned to a pantry closest to their home and are allowed to go to the pantry twelve times in a twelve-month period. Yates explained that patrons receive a five-day supply of food but notes, "Often, that's not enough.  In fact, in the last two or three years we've begun to take on more partner agencies, more nonprofits, that maybe can't provide a five day supply but could provide some extra food for maybe one day or two days."
In addition to food pantries, ACCESS has other programs that aim to reduce hunger in Jackson County.  One such program is their food share gardens, which began in 2010. Three garden sites were donated to ACCESS and were staffed with volunteers from each community. In their first year, the gardens produced 24,000 pounds of food. In 2014 ACCESS hosted six gardens that produced 62,000 pounds of food. Food from the gardens is distributed first to the community in which each garden resides; any excess food is distributed throughout the Jackson County.
Other programs are designed to address specific community needs. One example of this is ACCESS' Cooking Skills Education demonstrations.  The Cooking Skills Education demonstrations were started after a 2013 study identified a need in the community for people to learn and build cooking skills in short repetitive experiences. During a Cooking Skills demo, volunteers teach local residents basic cooking skills that can be applied to a simple, nutritious, affordable recipe, often featuring  local whole-foods. The demos are conducted at food pantries, grocery stores, and Rogue Valley Growers and Crafters Markets.
Other programs include the Healthy Corner Store Initiative, which works to get nutritious food into local corner stores, and also partners with local schools that have a high rate of free and reduced school meals. Yates explained, "In Medford we are partnering with Jackson, Roosevelt and Kids Unlimited Academy elementary schools. We have fresh produce going to them every single week… distribution is done when parents are picking up kids." Yates estimates that they distribute 1500-2000 pounds a week to the schools.
ACCESS's food programs have changed in the last few years. Yates explained, "What's really changed over the years that I've been food banking is there's been a case of us looking more at providing more nutritious food because stats show that chronic diseases like diabetes, high blood pressure, and obesity are growing all across the country and in particular here in Jackson County."  Programs such as the Food Share Gardens and the Cooking Skills Education Demonstrations aim to provide residents with healthy food and the skills needed to prepare it.
ACCESS programs are mainly volunteer-run. To find out more about their programs, or to volunteer, visit their website at accesshelps.org.