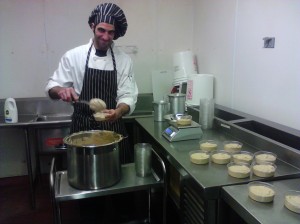 Ton Ton's Artisan Affections, founded by Michael Antonopoulos, has been in business since 2012. Antonopoulos is passionate about his products and the community where his business is located. He sells his products, which include grain-free cookies, roasted chickpeas, and hummus, to local retail stores; they are also available at Rogue Valley Growers and Crafters Markets. The face-to-face nature of the markets has allowed Antonopoulos to "develop a rapport and interplay with the community."Antonopoulos claims that consumers at the market provide valuable insight and allow him to, "make adjustments and be aware of what people are really looking for."
In the last three years, Ton Ton's Artisan Affections has expanded, and new plans are on the horizon, including a gluten-free subscription box that will consist of goods from various Rogue Valley producers. Antonopoulos is also in the process of creating a marketing campaign which will help spread the word about Ton Ton's Artisan Affections to locations outside of the Rogue Valley. In order to meet larger product demands, however, some changes will be needed.
Currently, Ton Ton's products are produced in a shared rental kitchen in Talent, OR. Although Antonopoulos notes that the rental kitchen has served him well for the past few years, it has limited oven space, which restricts his production ability.  Antonopoulos hopes to vacate the kitchen by April 2016 and open up a new, larger processing facility, which will meet all of his storage and baking needs. Staying true to his commitment to community, Antonopoulos plans to rent out the new facility to other local food producers who are in need of a space. To find our more about Ton Ton's Artisan Affections, visit their website at www.artisanaffections.com or stop by their booth at the Rogue Valley Growers and Crafters Markets.