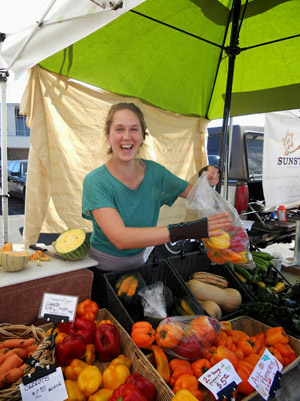 Grocery stores serve as the main source of food for much of the community; they create jobs, and ideally are avenues to distribute locally produced food to consumers. The Rogue Valley is fortunate to have several independently owned grocery stores that are willing to source locally and are focused on serving the community's needs.
A large portion of the community's consumers are served by the large chain stores that are scattered throughout the community: Albertson's, Safeway, Fred Meyer, Wal-Mart, Grocery Outlet, Winco, and Trader Joe's. Some of the smaller more rural communities are served by a Ray's Food Place. These larger chain stores are set up to operate within the larger, industrialized food system. They generally stock their shelves through large distributors that can supply large quantities at fairly low prices. These are very challenging avenues of sale for local, smaller scale farmers.
Farmers, ranchers, grocery stores, restaurants, and consumers have expressed a desire to develop a system to more efficiently get food from farms to the end consumer. Increased efficiency of local food distribution would decrease waste of product, time, money, fuel, and increase potential avenues of sale. Consumers are interested in having local products more available in stores where they are already shopping. Grocery stores and restaurants would like to be able to offer more locally produced products to their customers, but need a more efficient system through which to obtain the local products. Currently, farmers are making many individual trips to town to sell their product. Some farmers have also expressed that there would be a benefit to having a more reliable place to sell their product than just relying on direct sales such as the growers markets. The challenge for farmers is that they do not make as much selling their product through retail avenues as they do directly. Retail and wholesale is proving to be a successful route for the larger producers in the valley who can sell product on a large scale. This is often where the idea of a producer Cooperative model comes up if there were enough farms in the area with the capacity to make this model work.
Local Market Development
Rogue Valley farmers are confident in their ability to produce food and what they need in order to do so is an expanded local customer base to sell to. We know that a small portion, about 2.5% in Jackson County, of consumer's overall food budget is spent on locally produced foods.[1] While this percentage offers an overall average of local food purchased, the reality is that many families purchase little or no locally produced foods and a small number of families are loyal customers of famers markets, farm stands, and CSAs. Several consumers in interviews and at community gatherings commented that they do not have time to get to the farmers market and that they would be interested in buying local food if it was available in the grocery store.
Farmers have expressed a need for information and support in developing niche products and how to market their products so that they are not one many farms producing the same product and trying to sell it in the same way. Farmers have expressed that they have a limited amount of time to spend on marketing and could use more support in this area. "We are farmers, we don't really want to be spending a lot of time marketing, we want to be farming" says farmer Matt Suhr of HappyDirt Dirt Veggie Patch.
Many producers currently say that selling at the Growers Markets is one of their most successful avenues of sale. However at the same time they express that it is a challenge to staff the market when there is no guarantee that sales will be good. Many producers feel that the markets are saturated with vendors and that they are reaching the same customers at each market. It is simply easier now for those same people to get to the market with more locations and times. Producers and consumers are appreciative of the numerous growers markets in the Valley, however many people have expressed that they do not feel that more farmers markets will increase sales for producers.