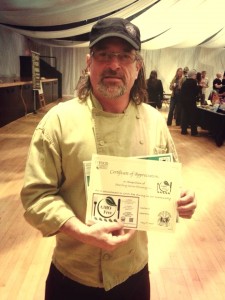 Eric Bell is the head chef at Standing Stone Brewing Company located in Ashland, OR. Bell's commitment to sustainable practices and local food is reflected in his work at Standing Stone. Bell explains, "I love working with local farmers. Local, healthy food is really important to me. We raise our cows and our own lambs. We can tell you the entire story of our animals' lives, what they've eaten, and how we've raised them. It's a transparent system that you can go see anytime you want; we never hide anything, it's out in the open." Visitors are welcome to tour Standing Stones farm.
In addition to local meat, Standing Stone uses other locally sourced ingredients such as produce, wine, and olive oil; they also brew their own beer. When asked why he cares so deeply about local food, Bell replied, "That's a little different for me than it might be if you were to ask someone else because I am a chef. No matter what, if you buy food from a farmer at the market it will taste better than what you buy in a store. It's traveled less of a distance, it's fresher, and it's probably an heirloom variety."
Quality is important to Bell, and as such much of Standing Stones food is made from scratch. "We make our own mayonnaise, I ferment Sriracha, and we make our own kimchi and hot sauce," explains Bell. All dressings, including ketchup, are also made in-house, from scratch. In addition, 90% of the food at Standing Stone is GMO-free. Bell personally researches every single ingredient that passes through his kitchen; something, which he says, "is an ongoing process that takes constant research."
When asked why he is passionate about sustainability, Bell responds, "I have children and I care about this planet and the world we are leaving for them." Bell has done his part to help make Standing Stone an even more sustainable business. "We have very little garbage, we have almost no waste. We recycle everything and what we don't recycle we compost on our own farm. When I started here we had two dumpsters for garbage and there was talk of getting a third one and we all thought 'What? Wait a minute, this isn't right, we need to rethink this process', so we've gone completely in the other direction. Now, we have one 32 gallon household-size garbage can and that's it." Olive oil used in the kitchen is purchased in reusable 55 gallon drums so that there is "never any waste, there's no container that you throw away ever."
Two of Bell's favorite dishes that are currently on the menu are the lemongrass beef salad and the kimchi burger. For further information about Standing Stone, or to view their menu, visit http://www.standingstonebrewing.com.