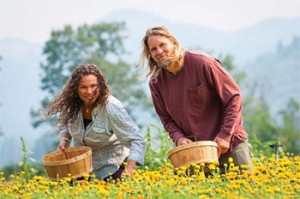 Oshala Farm, located in the Applegate Valley, is owned and managed by Elise and Jeff Higley. The farm, first established in 1906 by the Hill family, spans across 113 acres, about 50 of which is farmland. This season, 24 acres are in production. According to Elise Higley, "We grow vegetables, fruits, herbs and tree crops." Oshala Farm also produces their own teas and line of spices, which are for sale on their online store.
Elise spoke about the challenges and rewards of farming. "The most rewarding part is hearing from people down the line that "I had your teas" or  "this is the best squash I've ever had" or things like that. It's just a really great feeling because it is so much hard work. To know that your product got somewhere and brought health or a smile to somebody's face makes you feel really good; it makes it all worth it."
As for the challenges, Elise says that, "Farming is very physically demanding. You need to find the right people to work with that are as crazy as you are, that are willing to work long hours and get up in the dark and stay out until dark, and help you harvest with headlights in the freezing cold, and are as passionate about providing local food. It's challenging to be able to find people who are willing to do that and pay them what you feel is worth their time."
There are other challenges, as well, "The cost of infrastructure is definitely challenging. It's hard to get loans on your overall, everyday costs. It's easier to get loans for equipment." Elise stated, "We don't have a lot of mechanism on our farm for our veggies so it takes longer to harvest things and it costs more money. The biggest barrier is being able to provide quality food at a competitive price." Oshala Farm does its part to help bring fresh, nutritious food to individuals who may not be able to easily afford it. "We do offer a discount section for our seconds or blemished items. We always have volunteers come work on the farm, which is great, too. We love to give them lots of food."  To find out more about Oshala farm, or to purchase their products, visit http://www.oshalafarm.com.
Photo provided by  David Gribb Photography.