According to the Rogue Valley Grower Economic Survey, the Rogue Valley produced between $54 and $86 million in agricultural products in 2013 on 2,339 farms or ranches. Approximately 60% of these products were sold directly in the Rogue Valley. The USDA reports that Jackson and Josephine County produced on 242,335 acres of land in 2012. Agricultural products grown include vegetables, berries, hay, animal products, grains, tree fruits, nursery products, grapes, and more.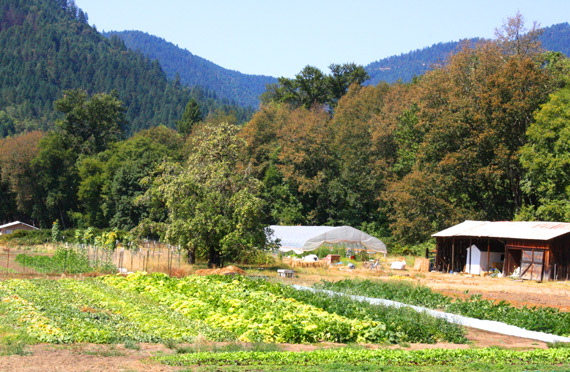 In total, the Rogue Valley consumed between $761 and $828 million in food products in 2013. Thus, the Rogue Valley produced somewhere between 4-11% of the food sold in the Rogue Valley in 2013.
Southern Oregon is becoming more and more known for its wine production. With four different American Viticultural Areas (AVAs) and more than 60 wineries, the region is fast becoming a premier wine destination. In 2011 there were 4,047 tons of wine grapes produced in Jackson County.
As of 2012, there were an estimated 80 certified organic farms in the Rogue Valley. The long hot summers are particularly suited to seed production as well, and many small farms produce seed for contract or for themselves. In 2014, Jackson and Josephine County banned the use of genetically modified organisms in the food system.
Land Use Planning
The Rogue Valley has both an excellent climate and fertile soil for agricultural production. However, there is a limited amount of prime agricultural land in the valley. The river and creek bottom lands have soils to support row crop production. The orchards that are prominent in the Rogue Valley can be grown on a wider range of soils and the wine grapes that are making a name for themselves in this region can be grown in even more locations. Outside of these agricultural uses, much of the shallow, low-nutrient soils in the region are best used for pasture land and meat production.
There is tremendous pressure to urbanize the high quality agricultural lands which are found directly adjacent to many of our urban areas. This is due to the increasing population of the region as well as the decline in prices for crops on the international wholesale market. The region recently completed a land use plan to accommodate a doubling of the population over the next 50 years. This Regional Problem Solving (RPS) plan calls for the urbanization of 7,000 acres of farmland, 1,200 acres of this is prime agricultural land.
Farmer Training
The average age of the American farmer is steadily rising. As of 2007, the agricultural census showed that the average age of farmers in Jackson County was 59 years of age. However, there has been a recent wave of young farmers entering this sector. Young and aspiring farmers are finding more and more opportunities to learn what it takes to be a successful through beginning farmer training programs offered through organizations such as Rogue Farm Corps, OSU Small Farms, Thrive, and Friends of Family Farmers. The goal of this collaborative effort is to design and implement a continuum of programming to serve the education, training, and business development support that aspiring farmers need to launch successful farm businesses.