Sam serves as a board member for the Friends of Josephine County Food Bank, where he represents the organization he has been involved with since 2007 in various ways.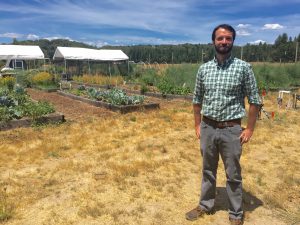 In fall of 2016, he became the Coordinator for Social Determinants of Health at All Care Health. He is passionate about working with the community to find long-term solutions to hunger and poverty in Josephine County.
He believes that an adequate supply of good, healthy food for every member of our community is essential to keep kids healthy and active, and adults energetic and engaged.
When he's not working, he's raising three kids, working in his own garden, or enjoying the great outdoors.
Josephine County Food Bank
The Josephine County Food Bank has been a fixture in Josephine County for nearly 30 years. Originally part of the Josephine County Community Action Agency, the food bank is now part of the United Community Action Network. The food bank distributes food through a network of 31 locations and 27 charities throughout the county.
In 2015, the food bank moved to a new food distribution site at Raptor Creek Farm. The 13,000 square foot food distribution center allows the food bank to integrate the operations of the warehouse and the garden into one central location. Other than growing vegetables and distributing food, the food bank provides job training to youth and jobs to seniors. Today, the food bank is as necessary in our community as ever. They distribute 2.4 million pounds per year and approximately 11,000 people per month.