Siskiyou Sustainable Coop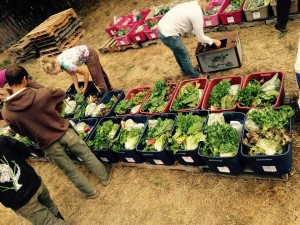 The Siskiyou Sustainable Coop has been serving the Rogue Valley for thirteen years. There are eight farms in the Coop: Seven Seeds Farm, Dancing Bear Farm, White Oak Farm, Sun Spirit Farm, Wandering Fields, Barking Moon Farm, L & R Family Farm, and Wolf Gulch Farm. All of the farms products are certified organic.
Tom and Maud Powell are the directors of the Siskiyou Coop. Maud works directly with Coop members. She explains, "I really enjoy interacting with people and helping them figure out what size box they want and if it's right for them." Throughout the season Maud sends the members recipes and helps them figure out new ways to cook the food that they receive in the CSA share.
Running the Siskiyou Sustainable Coop involves a lot of coordinating and organization, which is overseen by Tom Powell. "We have eight farms that are all growing for one CSA so there's a lot of planning that goes into it, like figuring out who is going to grow what and when because we want the boxes to be filled out and to be diverse," explains Maud. Although Maud and Tom take on the role of coordinators, the cooperative makes all of its decisions as a group. In order to fill their boxes and get them ready for delivery, members of each farm meet at a central location once week to prepare the boxes and drop off their products. The shares are then dropped off at several pick-up locations throughout the Rogue Valley.
The Coop has grown in size over the years. According to Maud, they had about sixty members in their first year. They currently have two hundred and fifty members. Their growth, aside from the quality of the product, is due in part to their Workplace Partnerships program. The Workplace Partnerships is a program in which the Siskiyou Coop partners up with local businesses and offers their employees a discount on CSA membership. So far, the Coop has partnered with Lithia, Asante, and the Oregon Shakespeare Festival. To learn more about The Siskiyou Sustainable Cooperative visit http://www.siskiyoucoop.com.