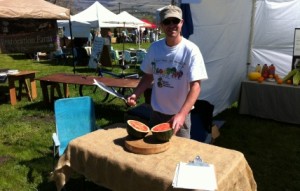 Tom Marks, founder of Organic Produce Warehouse, has been involved in many different roles in the food system. "I have been a farmer, I have opened two restaurants, I have been a produce manager, and I've worked in natural health food stores," explains Marks.  About ten years ago Marks was working for another company, selling produce. His boss at the time offered to pay him in money, or in fruits and vegetables; Marks chose the later and began opening his own accounts.
From there on out, "One thing led to another and I realized that we didn't have a local organic food facility, and that most of the organic produce being sold in the area was going through distribution sites in Portland and Seattle and then coming back to us on a truck everyday." This process "seemed absurd" to Marks, and he decided he "Wanted to provide an opportunity for people to support local business and get their organic produce locally." As a result, Organic Produce Warehouse was opened.
The goal of Organic Produce Warehouse, according to Marks, is to "Provide the infrastructure needed to have a thriving food system. In order for us to have food security we need to have healthy food businesses and in order to have healthy food businesses you need an advocate, you need someone in the food business who is going to help you succeed." OPW strives to be that advocate. They work hard to connect with local businesses and consumers alike.  In addition to selling products grown or made by local people, they also keep community needs in mind. Currently, they are exploring the possibility of opening up a shared use / incubator kitchen.
If consumers in the Rogue Valley want to know which items are supplied by Organic Produce Warehouse, Marks suggests a simple method: Just ask. Produce managers will be able to tell you which products come from Organic Produce Warehouse. To find out more about Organic Produce Warehouse, visit http://opwfresh.com.