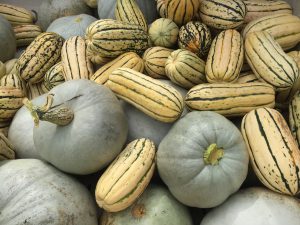 While many of the farmers' markets close at the end of November, there are still many opportunities to support local producers and farmers all year round, whether by the only all-year growers' market in Grants Pass, CSAs, or farmstands and stores. If we have missed a place, let us know by contacting us here.
Barking Moon Farm Winter CSA – Community Supported Agriculture (CSA) is a practice of farming that focuses on high quality food production using organic methods. Our Community Supported Agriculture program aims to promote locally-grown food and build relationships between the farmer and neighbor. We are committed to organic farming and whole farm sustainability. We believe the CSA model is a perfect way to achieve these goals.
The boxes include a variety of winter vegetables including tender greens (salad mix, mustard greens, mache), coarse greens (mixed kales), green cabbage, alliums, rutabaga, napa cabbage, sweet winter carrots, turnips, beets, radishes, and other seasonally available items, a nice supplement for two people.
This CSA operates December-February. The cost for one share for the whole season is $210, or $35/box. Pickup at various locations in the Rogue Valley.
The Farm Store at Fry Family Farm – Winter vegetables, preserves and pies. Monday – Sunday, 10 am – 5 pm (until March). See their Facebook page for more updated information on offerings. Located at 2184 Ross Lane, Medford.
Grants Pass Growers Market – Vegetables, meat, and canned goods from a variety of vendors. Every Saturday, 9 am-1 pm in the heated Commercial Building at the Josephine County Fairgrounds. November 4, 2017 – March 10, 2018.
Rogue Produce – Delivers fresh, local, sustainable, organic, non-GMO food products year-round to Rogue Valley residents on a weekly basis.
Whistling Duck Farm Store – Vegetables and ferments, as well as other products from other producers such as fish, herbs, breads, eggs, honey, and chocolate and cheese. Winter hours (November 15th to April 1st) are: Monday-Friday 10 am – 6 pm, Saturday and Sunday 11 am – 5 pm. See their Facebook page for more updated information on offerings. Located at 12800 Williams Highway (Hwy. 238).
Willow-Witt Ranch – Sausages, eggs and meat are available at their on-farm store daily 11 am – 5 pm and for year-round delivery in Ashland or Medford with online ordering.