Wolf Gulch Farm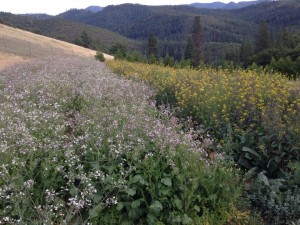 Wolf Gulch Farm, owned and operated by Maud and Tom Powell, is located in the Little Applegate. The farm is approximately three acres in size and its products are certified organic. The products grown at the farm have changed throughout the years. Maud explains, "It's been this whole learning process of finding out what works well on our farm, what we like to grow, what's profitable, and what there are markets for. What we've found is that our property is best-suited to growing seed crops." As such, about half of the farms production is seed crops; in any given year Wolf Gulch Farm grows, "Somewhere between fifteen to twenty different types of seeds. We almost always grow lettuce, tomatoes, onions, leeks, parsnips, kale, and a range of other seed crops" that also include flowers, such as zinnias and sunflowers. In addition to seeds, they also grow produce, which is sold "almost exclusively" through CSA's. During the summer and fall seasons, Wolf Gulch Farm sells their produce through the Siskiyou Sustainable Coop. During the winter months, they sell their produce via their own Wolf Gulch Farm CSA.
Maud spoke about some of the challenges of farming, including improving the soil and the Rogue Valley's limited water supply. Maud explains, "We have a heavy clay soil but since 1998 we've been using all the practices you hear about to build organic matter in your soil. We've been doing cover cropping, green manure cropping, and using compost. It's been really cool to see that after all this time we have a lot of topsoil built up in our fields. It's really nice to see that those practices work." Regarding water issues Maud explains, "We don't have a lot of water but seed crops don't need as much water as annuals." Because of the drought, they have been, "Doing more water catchment and just being more careful during the winter about collecting as much water as possible." Due to the drought, Wolf Gulch Farm suspended their winter CSA program for the first time last year, but they hope to re-start it this year.
When asked about the rewards of farming, Maud said," There's so many things about it that I love… It's really rewarding that our job is to grow food for people. It's incredible. It's such an honor… The seed we sell is going all over the country. The fact that the seeds from our farm are being grown in all these gardens and farms around the country is mind-blowing… It's amazing to me." To find out more about Wolf Gulch Farm's seeds, visit http://www.siskiyouseeds.com.